Train to Become a PINES Provider
Thank you for your interest in training to become a PINES Early Intervention Specialist.
Any educator who is eligible for, or holds, a current Georgia teaching certificate, a Speech-Language Pathologist (SLP) license, or an Audiology license can apply to be trained as a Georgia PINES Early Intervention Specialist (EIS). We particularly seek Teachers of the Deaf/Hard-of-Hearing (D/HH), Teachers of the Visually Impaired (TVIs), Speech Language Pathologists (SLPs), Special Needs Pre-K teachers. Educators from related fields who have background with children who have sensory loss can also apply for training. 
This is a wonderful way for you to make a difference in the lives of babies/toddlers with sensory loss - and their families. We would love to have you join us in this incredibly rewarding work! 
For more information about the training or to learn more about Georgia PINES, please contact:
Kimberly Williams     [email protected] 
Christine Spratling    [email protected]
To learn more about becoming a Deaf Mentor, click   here   , or contact Ellen Rolader [email protected]
generic training flyer 2024.png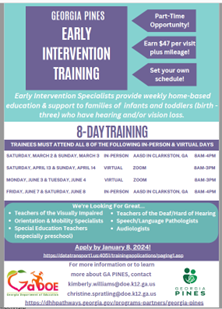 Click here  to download a copy of this flyer. 
Registration deadline for the 2024 training is January 8, 2024! 

Click here to apply for training or go to https://datatransport1.us:4051/trainingapplications/paging1.asp